Over the past years residents have repeatedly expressed interest to the HOA in a joint initiative to evolve Southern Village into an even more sustainable neighborhood.
In response the HOA has commissioned a 'Going Green in Southern Village' committee in 2009 to set goals, plan and execute initiatives, and encourage SV residents to become responsible stewards of the environment.
Our goal is to educate, encourage, and challenge SV residents to reduce consumption of natural resources through conservation – primarily fossil fuels (oil, coal, gas), trees and water – avoiding some common misconceptions. Big differences can be made with simple, inexpensive changes which improve our standard of living without impact to daily comfort or convenience.
In fact there are a variety of incentives to go green and save money.
News:
Pete Street™ Now in Southern Village.
The Chapel Hill and Carrboro WISE programs are sponsoring Basic Energy Education (BEE) Workshops.
Following the Pete Street™ model, neighbors attend a workshop together, learn energy saving techniques,  go home, and do the techniques they learned, then teach other neighbors​.
Participating households have documented $100 per month in savings.
Events:
April 29 thru August 23
5th Annual Scrapel Hill Art Exhibit
University Mall
Scrapel Hill is an annual exhibit dedicated to make people think creatively about reuse, and features works created from discarded objects and materials. Scrapel Hill is an ongoing partnership between the Town of Chapel Hill's Public and Cultural Arts Office and University Mall. Local and regional artists are invited to submit works that help educate and promote the value of recycling.
The two top place winners will receive $2,000 and $1,000 respectively. New this year is a special $500 award for best interactive artwork*. A People's Choice Award of $500 will also be awarded. Artists are eligible to win more than one award. University Mall may select pieces for purchase or to remain onsite for a longer period.
For more information on the exhibit and artist applicaitopn materials,
go to Scrapel Hill Exhibit
May 2013
Wednesday, May 8
Go Chapel Hill – Carrboro Bike to School Day
Chapel Hill – Carrboro City Schools
Students are encouraged to walk or bike to school on Wednesday, May 8, to improve the quality of the air, experience a more fit way to arrive at school each day and to feel great as you arrive at school!
COME RIDE WITH US!
A CONVERSATIONAL BIKE RIDE
THRU DOWNTOWN CHAPEL HILL/CARRBORO
Ride your bike with the planners, engineers, and citizens
working on the Chapel Hill Bike Plan!
A Bicycle Planning Consultant and a Town Planner will be there. Tell them what you think!
Food and drink afterwards!
Meet @ Chapel Hill Town Hall Wednesday May 8th
Lower Parking Lot
Meet @ 5:15. Ride Leaves at 5:30
Food and Drink to Follow Mellow Mushroom @ 6:45
For more information contact Garrett Davis
bikeplan@townofchapelhill.org
www.townofchapelhill.org/bikeplan
Friday, May 10
UNC- Map My Bike to Work
11 a.m. – 2 p.m., UNC Health Science Library Area
UNC's Commuter Alternative Program (CAP) will set up tables with games, prizes, and snacks outside the Health Sciences Library to promote the upcoming Bike to Work Week. Current bike commuters will be encouraged to map their routes and sign up as mentors for other potential bike commuters, as well as congregate with other cyclists and exchange ideas. The Towns of Chapel Hill and Carrboro will be invited to promote nearby cycling resources and events.
Saturday, May 11
Chapel Hill's Bike & Bus Workshop, 8:30 a.m. - Noon, University Mall Farmer's Market
Carrboro's Bike & Bus Workshop 8:30 – Noon Carrboro Farmer's Market
Come and learn how to quickly and easily mount a bike onto the front of any bus in the Greater Triangle area. Take a quick tour of a Fare Free Chapel Hill Transit Bus.
Tuesday, May 14
Carrboro Bike Breakfast Workshop
8:30 a.m.-noon, Municipal Parking Lot (Near Armadillo Grill)
Come for breakfast with other cyclists and have free bike checks from local bike shops. Enjoy the giveaways, informational handouts, cycle discussion all while enjoying biscuits from Neal's Deli! Enter multiple drawings during the morning's events!
Wednesday, May 15
Bike Shops – Free Bike Inspections (TBA)
All Day, Chapel Hill – Carrboro Bike Shoppes
All Chapel Hill – Carrboro Bicycle Shoppes are offering bike inspections all day long at no charge AND no appointment required (though you might have to wait when you arrive)!
Friday, May 17
Go Chapel Hill – Carrboro … Spring Roll Ride
Cycle more, feel great! 

Wallace Plaza 150 East Rosemary St
Gathering and Music at 5:30 pm with the ride to begin at 6:45 pm.
Live Entertainment
Spoke 'N Revolutions will provide great food
The ReCYCLEry will sell t-shirts.
Raffle Drawing: Local Bike Shops and Merchants Gift certificates.
Prizes: There will be mini-competitions: best decorated bike, best costumes.
Riders are required to sign a waiver to participate
Reduce landfill waste generated in Southern Village by 20% year over year
The average tons of landfill waste in all of 2009 was reduced by a full 13% compared to the average of the 2nd half of 2008.
In 2010 we were able to reduce the landfill waste again by 3.5% compared to 2009 and in 2011 another 2.9% compared to 2010. 2012 was back at the 2010 level

About 30% of what is being thrown away is readily recyclable and a further 15-20% compostable.
Let's focus on reducing landfill waste in 2013 to achieve our self imposed goals folks !!
Let's continue the positive downward trend.
Note: Cardboard waste was taken out in Dec 08
Most of our waste includes plastic products which require [foreign] crude oil and electrical energy from coal for its production. On average, for every dollar spent, the energy equivalent of half a liter of oil is burned to produce what that dollar buys. In addition disposable paper products significantly contribute to deforestation worldwide.
A recycling center has been been installed at Central Park and weekly trash service is being provided:

How can you participate?
Reduce by considering how much packaging you need. Buy bulk products or products in less packaging. Bring your own containers to the store.
Recycle everything possible, curbside, and at drop-off sites
Contribute to a 10% conservation in electricity and fuel use to offset the recent Duke Energy rate increase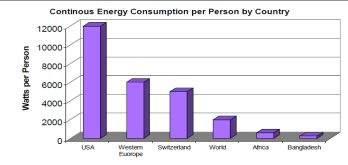 There is huge potential for energy conservation we can all contribute to. Reduction in power consumption can make the difference between the need to build a new power plant in the future or not, thus helping avoid rate increases in addition to savings by the reduction itself.
The Town of Chapel Hill is conducting a Town-wide energy efficiency program for homeowners called WISE Homes & Building Program. The Town will provide subsidies that will lower the cost of eligible home improvements by 25-50%. These subsidies are designed to incent "deep" energy efficiency improvements, meaning 15% or greater energy savings per home.
Southern Village already has the first LEED certified Subway restaurant in North Carolina and only the 3rd nationwide.
In June 2010 additional solar power lights have be installed in Edgewater Park and Highgrove Park in partnership with Strata Solar: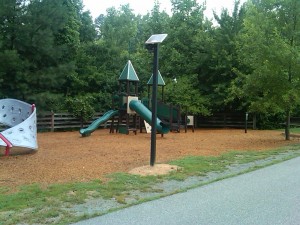 These solar lighting systems are operating in the following manner: A 20-watt solar panel is mounted to a 3″ steel pole. The solar panel charges a sealed lead acid battery, which provides power for a motion sensor security fixture with two LED spotlights, also mounted on the pole. The motion detection range is 30 meters at a 120-degree angle. It has a self-resetting adjustable time base from 6 seconds to 12 minutes and a day/night mode. These lighting systems operate automatically, and the solar panels and batteries are sized to provide up to 1 hour of light per night for up to 5 days of cloudy weather. The assumption is that the lights will come on for 30-second intervals when activated.
How can you participate?
You can easily monitor your energy consumption on the Duke Energy online dashboard and compare your savings to the average Duke Energy customer. To do so log in to Duke Energy click on 'Home Energy Center' under 'Energy Savings' in the menu on the left and follow the link to create your Personalized Energy Report (PER).
The info below is actual consumption of a Southern Village resident who's implemented some of the suggestions above but is still running the original inefficient 'old screamer' HVAC, windows and doors – aka low cost changes only.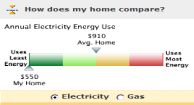 After an update of the HVAC to a high effciency dual-fuel Heat Pump with 95% efficient natural gas furnace backup the Dashboard changed to:
Read about the experience of your neighbors on the installation of Solar hot water and PV systems:
In September 2011 two new Solar PV system went online:
A 4.7 kW system on Parkside Cir by Strata Solar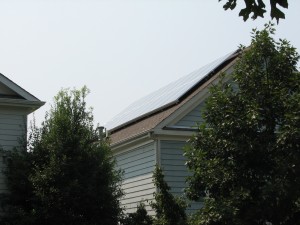 This installation marks an important milestone in a multi-year journey of the author of this website to become energy neutral. Read more how I applied the strategies outlined on this page in My Journey to Energy Neutrality
Now 11 months online selling the produced electricity wholesale my net sum of electricity cost stands at $3.64: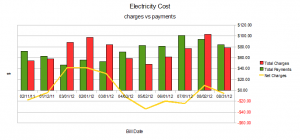 and a 4.85 kW system Edgewater Cir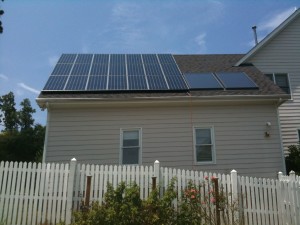 The solar installation at 205 Edgewater consists of a Velux Solar Water Heating System (2 thermal panels) with natural gas backup and a 4.83 kW Photovoltaic System (21 panels) which supplies the produced electricity into the Duke grid. Both systems were expertly designed and installed by Southern Energy Management (www.southern-energy.com), a North Carolina-based sustainable energy company headquartered in Morrisville.
We participated in the Chapel Hill WISE (Worthwhile Investments Save Energy) Program. The goal is to show that an existing 15 year old home can be retrofitted such that it approaches energy neutrality. Already two additional SV residents liked it so much that they will install similar systems. The photovoltaic magazine 'Photon' visited us recently for an interview with picture-taking.

This summer (2010) we installed solar electric (or photovoltaic, PV) and solar hot water panels  at our home on Edgewater. We worked with Strata Solar (formerly Solar Tech South), the company located across 15-501 from Southern Village.  The panels are located on our south-facing roof. In the garage, there's a storage tank for the solar-heated water and an "inverter" than converts the DC energy from the PV panels to AC and matches it to the energy coming from the grid/electric company.
Our PV capacity is 4.2kW(atts), which should generate about 5.5 MW/year given orientation to the sun, latitude, and historical weather patterns. Since commissioning the PV in early August, we are generating about 16-22 kW/day. During the air conditioned heat of the summer, this generation reduces our average grid usage about 20-25% daily. The PV maximum generation coincides with the heat of the day, which is when electricity is (or will be soon) most expensive. During the winter, we should be generating about what we consume.
We were motivated to install solar panels both because we think it's good for the planet and because it was a decent investment in the current economy. Given current federal and NC incentives and sale of our electrical generation in renewable energy credit (REC) markets, we expect about a 10-12% yearly return-on-investment in the near-term with total payback in 6.5 yrs.
Return after 5 yrs is dependent on the SREC market. The additional payments for renewable generation will likely decrease as more people enter the market and renewable-generation supply starts to sate current demand, but we will still be reducing our electric bill by 35-40%/yr.
The payback for the solar hot water will not be nearly so fast. However, the solar hot water heating has been sufficient for all our water heating needs since mid-July.  Last month, we received an email from PSNC with the subject "zero use at your residence" indicating their concern about a possible meter malfunction: the email marked a satisfying end of our first full month of "solar living."
Contribute in improved air quality by reducing emissions generated from vehicles and equipment
Southern Village already has a great track record in this regard. A UNC study conducted a few years ago concluded that SV residents drive an average 17.4 miles per day less compared to residents in Lake Hogan Farms simply due to the opportunities to go shopping, eat out and visit events in walking and biking distance at Market Street and the Green.
Many employers offer priority parking for registered carpoolers, assistance with vanpool development, discount or free bus passes, and an emergency ride home program.
How can you participate?
Walk, bike, take the bus – Anything that reduces the amount of miles you drive lowers the amount of gas you use:
Buy locally – The further a product has to travel before it gets to you, the more energy and gas it has consumed along the way. Local produce is also proven to be healthier and taste much better as it's harvested a lot later when it's actually ripe versus pre-maturely to account for extensive transportation times. Studies show a 'food mileage' a factor of 60x difference between a typical meal prepared from local ingredients versus standard processed food.
Consider alternative drive trains and fuel efficiency for any upcoming vehicle purchase
Update: The 2nd generation Smart electric drive is now available for lease locally in the Triangle from Smart center Cary
If using lawn care companies to maintain your landscaping consider changing to companies using electrical equipment to reduce air pollution and noise. Two such companies servicing our area are:
Reduce water use
Continuing to focus on water conservation allows us to save a precious natural resource, reduce costs, and be better prepared should mandatory restrictions be reinstated.
How can you participate?
With several of the above measurements your water bill could look something like this: